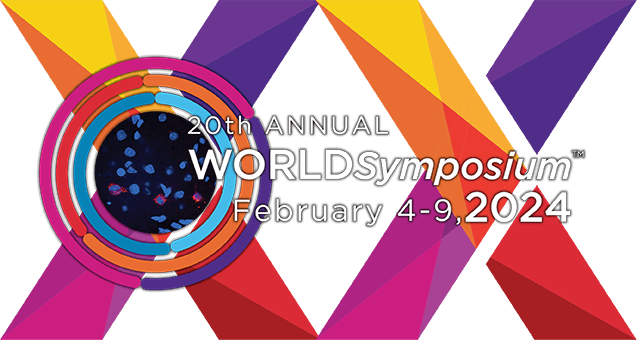 Advance Registration Ends January 5, 2024
Registration for the 20th Annual WORLDSymposium™ Now Open
WORLDSymposium 2024 in San Diego will be the place to connect, collaborate, communicate and continue to make global progress in lysosomal disease research. The LIVE meeting will be held at the Manchester Grand Hyatt San Diego in San Diego, California, USA and On Demand recordings will be available after the conference ends. The On Demand recording will include many of the core elements of the in-person Annual Research Conference.
Advance Registration Deadline
Advance Registration Rates end January 5, 2024
Registration Payments
Registration payments can be made by check, credit card (American Express, MasterCard, Discover, or Visa only) or wire transfer. WORLDSymposium does not process phone or fax registrations.
Registration Receipt
A registration receipt will be provided in your registration confirmation email.
Conference Badges
Badges will not be mailed in advance. Badges may be picked up at the WORLDSymposium registration desk at the Manchester Grand Hyatt San Diego. Entry into sessions requires a badge. Anyone who forgets to wear their badge, will not be allowed to enter sessions or events.
A registration confirmation number is required to log in to the On Demand platform and will be emailed to the address used during registration. All LIVE scientific sessions, and poster sessions at the annual meeting are open to all attendees. Access to any area of the On Demand platform requires attendees to be logged in.
Health & Safety
The health, safety and wellbeing of attendees, speakers, stakeholders and staff is of paramount importance. WORLDSymposium 2024 will be planned and organized in accordance with all current CDC or state health and safety guidelines and requirements.
Registration Transfers
Meeting registrations cannot be transferred to another person already registered for the meeting. If the registrant cannot attend the WORLDSymposium 2024 Annual Meeting for any reason, his/her registration may be transferred to another person who is NOT already registered for the meeting.
All registration transfers must be completed prior to January 5, 2024. Please contact for assistance with transferring a registration.
Registration Updates and Modifications
You will need to enter your email and your confirmation number in order to change or update your registration.
Any time prior to January 5, 2024, any individual registered for the LIVE conference, may transfer their registration to the On Demand-only registration, and receive a full refund of the difference between the LIVE and On Demand rates. After January 5, 2024, any individual may still change their registration from LIVE to On Demand, but no refund will be applied. No exceptions.
Anyone who is registered for the On Demand sessions who wants to upgrade to LIVE registration may also do so any time prior to January 5, 2024 and pay the difference between the two early registration rates. After January 5, 2024, the attendee will be required to pay the difference between the late registration fee and the original amount paid.
PLEASE NOTE: These changes can be done using the Already Registered? link. Please contact registration@

null

worldsymposia.org if you have any issues modifying your registration.
Registration Cancellation Deadline
Registration Cancellation Deadline: Friday, January 5, 2024
CANCELLATION POLICY
Cancellation notices must be in writing and received by 4:30 PM Central Standard Time (CST) on January 5, 2024 to be eligible for a refund. All cancellations are subject to a nonrefundable processing fee of 20% of all registration fees paid. No refunds will be made after this date. Cancellation notices should be sent to registration@nullworldsymposia.org. Allow four weeks for processing.
If a registrant needs to cancel after January 5, 2024, the conference registration may be transferred to another person who is NOT already registered for the meeting. If you have any questions, please contact registration@nullworldsymposia.org.
Letters of Invitation For Visa Purposes
The meeting registration confirmation email will include a link to generate a customized letter of invitation, which can be used when applying for a visa.
Customized letters of invitation can only be issued to confirmed registrants (individuals who have paid the meeting registration fees).
When registering for the meeting, registrants will receive a confirmation email with a link to automatically generate a customized letter of invitation.
Apply for visa as soon as possible
Non-US Citizens will need this letter when applying for a visa. All attendees are urged to apply for a visa as soon as possible. Waiting until after abstract confirmations are sent in mid-November will delay the visa process and may result in the visa application being denied. See Travel Information for details on visas and access into the United States for attendees traveling from other countries.
Letter of invitation restrictions
For security purposes, letters of invitation cannot be sent to people who have not registered for WORLDSymposium. Please email any questions to info@nullworldsymposia.org, using the phrase "Letter of Invitation" in the subject line.
Certificate of Attendance
Certificates of attendance will be available by completing an online evaluation at the conclusion of the meeting. Details will be provided to all registered attendees in the onsite handouts and in the Mobile App.
Complimentary Registration for Patients
To make the 2024 Annual Scientific Meetings accessible for lysosomal disease patients, WORLDSymposium is offering complimentary registration to all lysosomal disease patients 18 and over. Immediate adult family members 18 and over who have a specific interest in the scientific content may also be registered. Complimentary WORLDSymposium patient access is specifically for adult patients who have been diagnosed with a lysosomal disease and their immediate adult family members. 
Patient Registration Restrictions
Complimentary patient access will not be issued to:
Advertising, marketing, or public relations representatives from exhibiting companies or their agencies.
Representatives of any investment or financial entity.
Representatives of organizations selling or producing products, publications, or websites intended for marketing, advertising or public relations purposes.
Patient Registration Policies
Individuals with complimentary patient access may not:
Sell, market, or represent a company for the purpose of obtaining sponsorships from any registrant or exhibitor
Market a product or service displayed in the exhibit hall
Misrepresent themselves to secure access to the meeting
Conduct any product or service promotion that implies WORLDSymposium endorsement, or use the WORLDSymposium logo and/or name without express written permission
Receive CME, CEU for Genetic Counselors, and CNE credits for attending sessions.
Attend "By Invitation Only" sessions and events
Individuals who violate this policy will immediately forfeit access for this and subsequent meetings.
Registration Desk
The registration desk will be located in the Palm Foyer on the Second Level, and open during the following hours:
Sunday, February 4, 12:00 PM - 6:00 PM
Monday, February 5, 6:00 AM - 5:15 PM
Tuesday, February 6, 6:00 AM - 5:15 PM
Wednesday, February 7, 6:00 AM - 5:15 PM
Thursday, February 8, 6:00 AM - 5:15 PM
Friday, February 9, 7:30 AM - 10:00 AM